Do you think you know everything about the lion? maybe you're wrong! Here are 6 curiosities you may not have known about the most emblematic animal of the African savannah.
If there is one animal that arouses the interest of animal lovers, it is undoubtedly the lion. The so-called "king of the jungle" is one of Africa's most emblematic species. Here are some curious facts about lions that you might not know. And if you want to learn more about them, you are in luck: you have the opportunity to meet them up close during your visit to Selwo Aventura!
You can watch our pride of lions resting peacefully among the ruins of the palace they inhabit in the Central Village, which is home to the most famous representatives of African fauna. Remember that the walking tour through the four zones of the park is included with your ticket, and that you can get the best discounts and promotions to visit Selwo Aventura by booking in advance. There are no excuses to plan a visit!

Did you know all these interesting facts about lions?
If you think you know everything about this species, test yourself with these fun facts below. How many of them did you know?
What family do lions belong to?
Lions belong to the felidae family (Felidae), which groups together more than forty species with varying degrees of threat, mainly due to hunting for their valuable fur or the destruction of their habitat. Selwo Aventura has three representative species of this family: the lion (Panthera leo), the cheetah (Acinonyx jubatus) and the Iberian lynx (Lynx pardinus).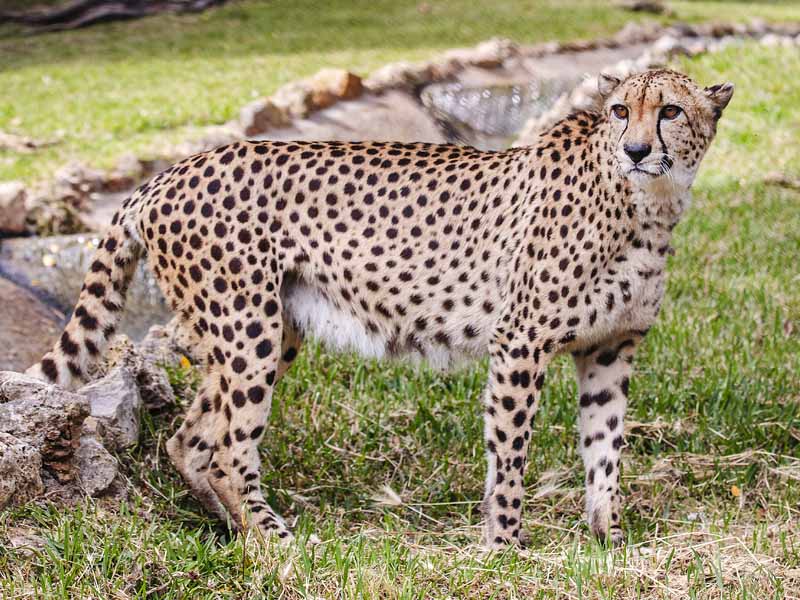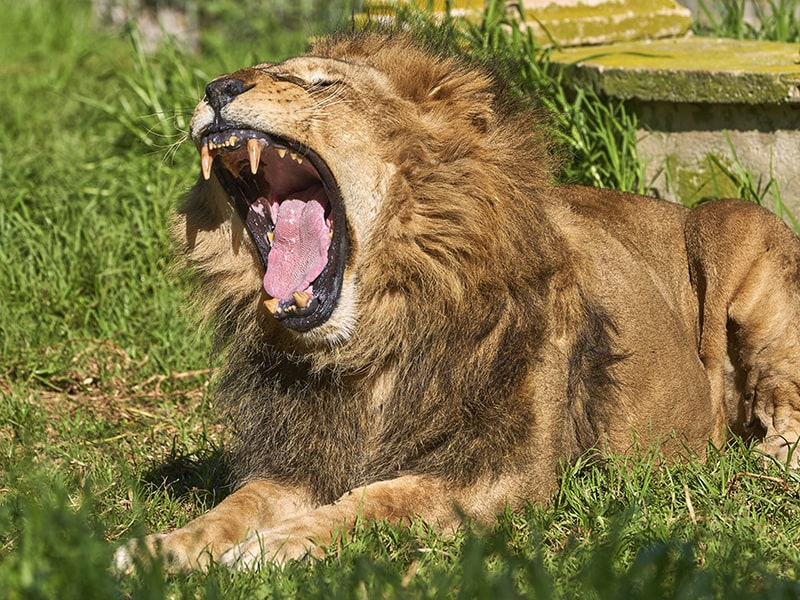 As the lion's scientific name, Panthera leo, indicates, this carnivore belongs to the Panthera genus of mammals, which includes lions, tigers, jaguars, leopards and snow leopards. Of these five, the first four are the only species capable of roaring, due to their anatomical characteristics. This is something that the rest of the felines cannot do, as they emit other sounds more similar to meows.
As a good representative of the Carnivora order, lions have a diet based on hunting other animals, mostly herbivores that females capture with their sharp claws and a deadly bite. This species, which can be considered quite dangerous, lives for around 15 years, weighing between 130 and 270 kilos, with an average height of 1.15 metres.

Although they assume the role of the "king of the jungle", they generally inhabit the steppes and plains rather than the interior of dense jungles, so it is more appropriate to call them "kings of the savannah". All subspecies of lion inhabit Africa and parts of India, and are taxonomically subclassified into different subspecies based on their characteristics.

Lionesses hunt, but what do the males do?
Lions are the only felines that live in prides, a structure in which lionesses are in charge of hunting prey to feed the group of about six females, their cubs, and the two or three "resident" males that lead this group. The females are more agile and faster and lighter than the males, and in addition to coordinating the hunt and ensuring the survival of the pride, they are also involved in protecting the group.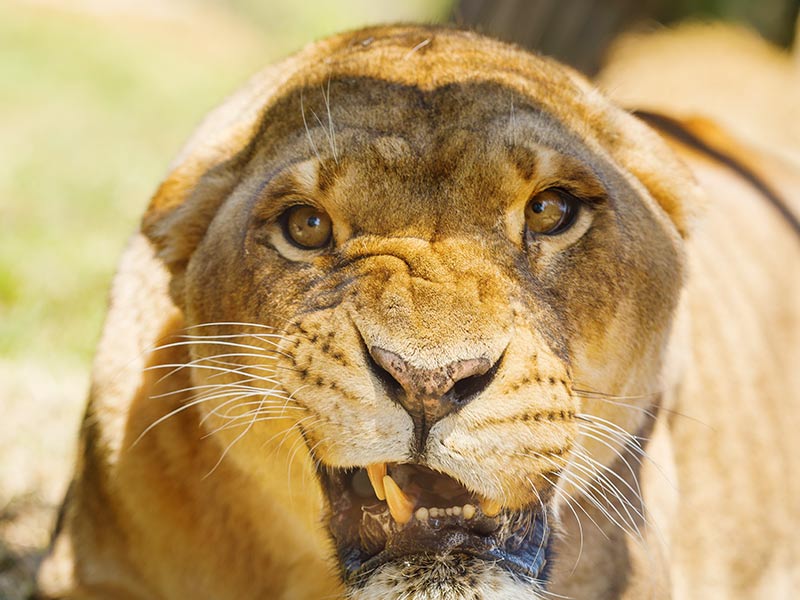 Within the pride, males often fight and compete for dominance in order to mate with all the females. In addition, they are always alert to external dangers, such as other lions seeking to dominate their pride. In fact, residents who take new control of a pride do so after defeating the previous leaders and putting them to death. Typically, these new leaders end up killing the cubs so that the females will come back into oestrus and mate with them. In this way, the residents ensure that they have offspring and offspring.
In addition to living in prides, there are also "nomadic" lions, individuals that live alone or in pairs, usually of related males. Although lions may vary their social organisation throughout their lives, in the wild it seems more difficult for nomadic females to join an already formed pride.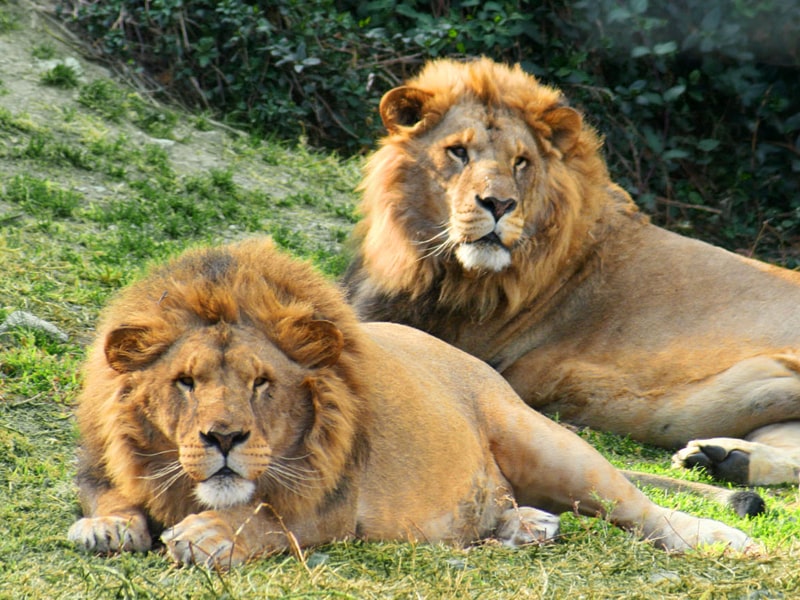 How long do lions sleep?
Lions spend around 20 hours a day resting, thus avoiding unnecessary expenditure of energy while they wait for danger that may affect their pride. However, their keen senses allow them to be alert to any dangerous situation they need to react quickly to.
Although during your visit to Selwo Aventura you will find our group of lions not very active, resting is a normal behaviour for their species!
Remember that they are animals that depend on hunting for food and this is a way to reduce the energy consumption they will need in their next attack on a possible prey, in which success is never assured.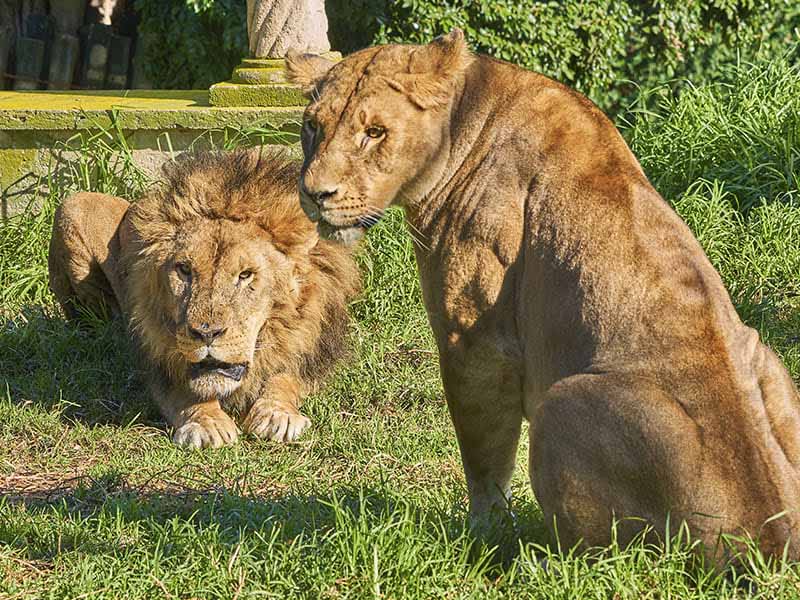 Mating, reproduction and gestation of the species
In addition to protecting their necks when fighting other lions for leadership or defending the group against other species, the males' manes play an important role in the reproduction of the species: females have certain preferences for mating with males with dark, thick manes.
During the oestrus period, these mammals reproduce twice an hour for at least four days, with sexual encounters of very short duration. Once fertilisation occurs, the lionesses' gestation Once fertilisation occurs, the gestation process lasts about 110 days, after which the lionesses usually give birth to three cubs per litter, which join the pride and are raised with the rest of the females.
The lion is a very defenceless animal in its infancy
At birth, lion cubs need their mother at all times after birth. Lionesses usually hide them for six weeks so that the new members of the pride are protected from the dangers of their habitat or from being preyed upon by other lions in the pride. Baby lions are usually helpless, very small cats with very reduced motor skills until they become fully independent of their mother's care.
Importance of lions in the ecosystem
As hunter animals, the activity of lions has a direct implication on the ecosystem they inhabit, both for other species and for humans. Populations close to areas inhabited by large groups of herbivores can also feed adequately as carnivores feed on prey that would otherwise diminish the food available to humans.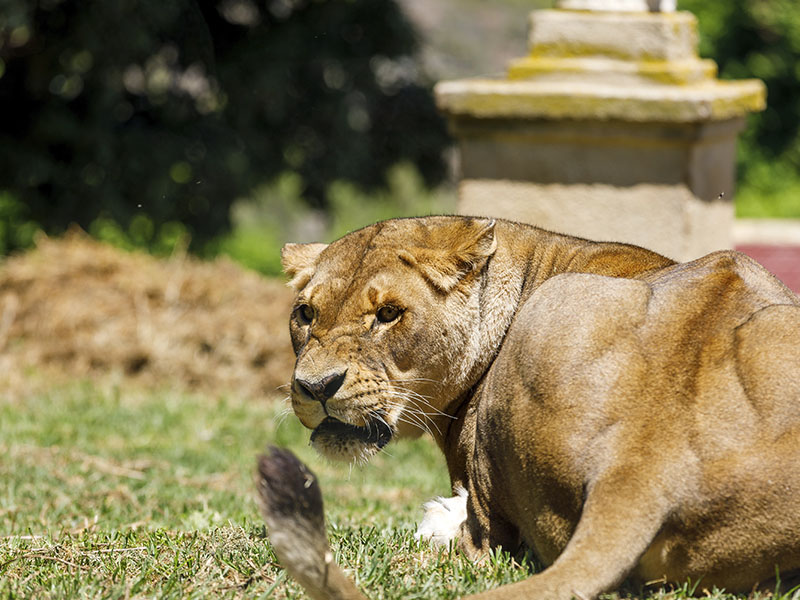 In addition, lions and other predators feed mainly on sick, old and weak herbivores, which are easier to hunt than young individuals. This helps to maintain healthier herds, where disease transmission is prevented and the strongest animals in the group reproduce.
Visit Selwo Aventura and meet the lions
As part of the educational activities on the park's species and habitats, the educational talk "Meet the lions" will allow you to discover one of Africa's most emblematic animals, learning more about this species and details such as its diet, reproduction and coexistence.
Selwo Aventura also has a large number of representatives of the African savannah, with species such as the cheetah or the hyena, or all the herbivores that populate the Lakes Reserve, formed by wide grasslands and lakes inhabited by rhinos, hippos, zebras, giraffes, wildebeests or different species of antelopes.
The special Serengeti Safari off-road truck programme takes you into this area on an exciting guided tour where you will learn all about these species and how we contribute to their conservation within the European Endangered Species Programmes (EEP). Not to be missed!