Looking for things to do in Malaga? Discover the best options here, even for those who already know the city!
Who hasn't heard of Malaga? Its beaches, its cuisine, and its people make this Andalusian city a perfect place to spend your holiday. Families from all over the world travel here to enjoy their days off. There is an endless list of activities to do in Malaga, so whatever your situation, fun is guaranteed. If you still don't know Malaga, now is the perfect time to come and discover this Andalusian paradise!
If you're thinking about what to do today in Malaga, the first thing that comes to your mind is probably the beach, along with sun, laughter and good times with the family. However, you may want to change your plans and do something more original. Or maybe you go to the beach every weekend and your kids feel like doing something new. If this sounds familiar, don't worry: we have the solution you're looking for.
Today we bring you three original ideas for spending some magical moments with your family, both for visitors and for those lucky enough to live here. We all like to have a variety of activities on offer, that's why Malaga is the ideal destination. So, if you're looking for things to do in Malaga, you've come to the right place. Far from the commonplace that appears in any search, today we offer some things to do that are a little different. Read on and make the most of these three special ideas we have prepared for you.
The views from the Benalmádena Cable Car

We've all dreamed of flying like a bird. To enjoy that feeling of freedom, and to see the views of nature from above; we have all wished we had wings. If just thinking about it gives you goose bumps, the Benalmádena Cable Car is your ideal choice. You'll be able to boast about having had the best views!
It's an option in Malaga whether you are visiting or living there. If you're a visitor, you'll be able to take in a bird's eye view of your holiday spot. You'll see the city from a new perspective, and your children will undoubtedly enjoy this special day out. If you live in Malaga, what are you waiting for to enjoy the cable car? You'll be able to boast about having enjoyed the best views of the city and take all your friends who come to visit. You'll certainly be impressed!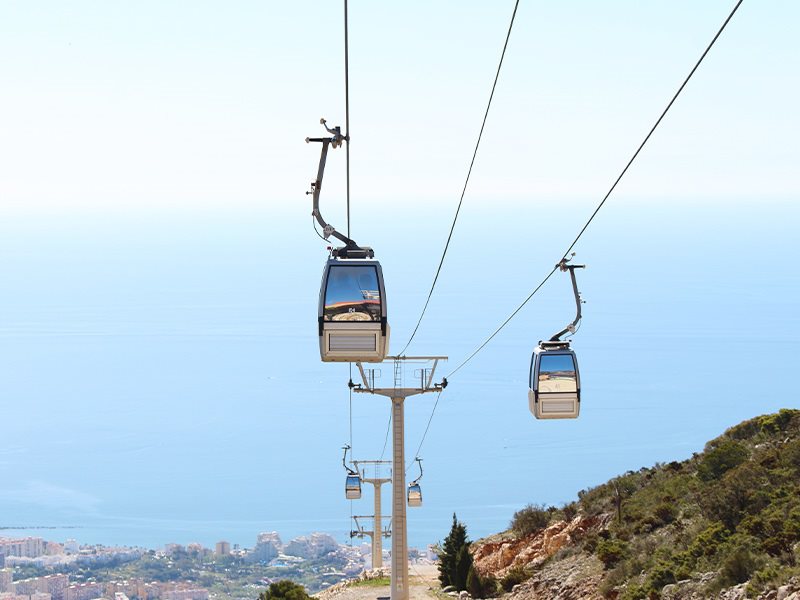 Don't think about what to do today in Malaga, just go and enjoy one of the area's most special activities. Life is full of good memories and this will undoubtedly become one of them. Young and old will enjoy the ride on the Benalmádena Cable Car, enjoying unparalleled views. Dare to enjoy Malaga from a bird's eye view!
Dive into the fun at Selwo Marina
Still looking for more original things to do? You're in luck! Imagine spending a fun day surrounded by dolphins, penguins, water and fun. Who wouldn't enjoy that? Also, if you're traveling with children, we're sure that the whole family will have a great time. If you've come here looking for things to do in Malaga, you're in luck. You won't regret it!
Now you want to know what place we're talking about, don't you? You got it right: you can find all this in Selwo Marina. There's no better place to enjoy the underwater world. You can play with our loveable dolphins, and learn from the penguins. You can also complete your visit with activities that you can share with your family, so that your day will be a memorable one. Selwo Marina is the ideal option for an original day out during your visit to Malaga.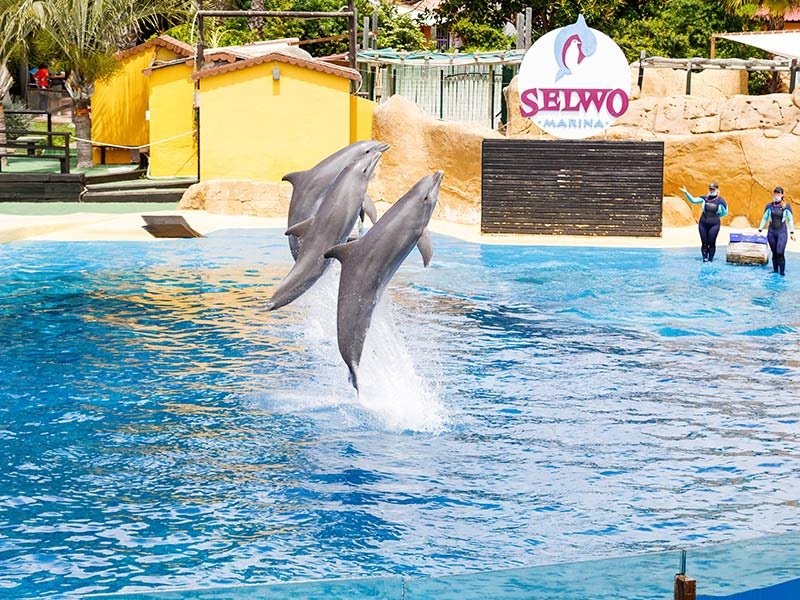 For family activities in Malaga, Selwo Marina is a very good option. Find out about all the activities on offer so you don't miss a thing. Fun is guaranteed for all family members, regardless of age. Take the plunge and immerse yourself in the underwater world by visiting Selwo Marina!
Have the mosr fascinating adventure in Selwo Aventura
Is your adventurous side asking for more? Do you like all these ideas, but still want more excitement? If the answer is yes, we'd love to welcome you to one of the most special and exotic places in Malaga: Selwo Aventura. We're sure that you'll have heard of it at some point, as it is a unique place in Spain.
Selwo Aventura offers you endless possibilities to enjoy your visit to the max. It's a zoo located in Estepona, one of the most characteristic towns of Malaga. If you're passing through the city and you feel like an original day out, Selwo Aventura is your ideal option. You'll get in touch with nature and discover ecosystems from all over the world without leaving Malaga. If you come from abroad and want to disconnect by spending a few days in the middle of nature, we have the ideal solution. There are also accommodation options inside Selwo for you to enjoy your experience to the fullest.

You can plan your visit in advance and not miss out on anything. Schedules, prices, ticket types... everything you need can be easily found on the web. In addition, you can buy your tickets online, and take advantage of numerous offers and discounts. You'll find a range of vouchers that include other parks, and there's even accommodation inside Selwo Aventura to make your visit even more complete!

In addition, Selwo offers exclusive activities  at you won't find anywhere else. You'll be able to enjoy an authentic safari, and fly over African territories on a zip line. Never thought of doing this without leaving Spain? Selwo takes you to exotic places without the need to buy a plane ticket. Complete your visit with these exclusive activities that you can book with just one click. If you love discovering new things, this is your ideal option in Malaga! 


And the real protagonists of Selwo have not yet had a mention: its animals. We couldn't leave them out! You'll meet species from all over the world and, most importantly, learn from them. Selwo also has conservation programs  of endangered species and takes the utmost care of animal welfare. If you're an animal lover, with your visit to Selwo you are contributing to their care. Learn with us and join the cause for a better world.
Selwo is committed to education. That's why it offers a variety of activities, especially for children, with the objective of transmitting Selwo's values to the younger generation. It welcomes schools to offer them a unique and educational excursion. At the end of their visit, kids can't wait to come back, so summer camps are offered. We're sure you'll love them! In addition, Selwo cares for the bravest children: those who struggle every day with illnesses. The Dreamnight at the Zoo event will bring smiles back to these children's faces. There's no greater gift than that!

Still hungry for more? Selwo is a box of surprises! You can complete your visit by staying at the Hotel Selwo Lodge. Complete your adventure by spending the night in Selwo itself. If you like the sound of this option, take a look at the different special offers that let you enjoy everything while benefiting from the best prices. You can choose the village you like the most... you will live in the heart of the African continent without leaving Malaga!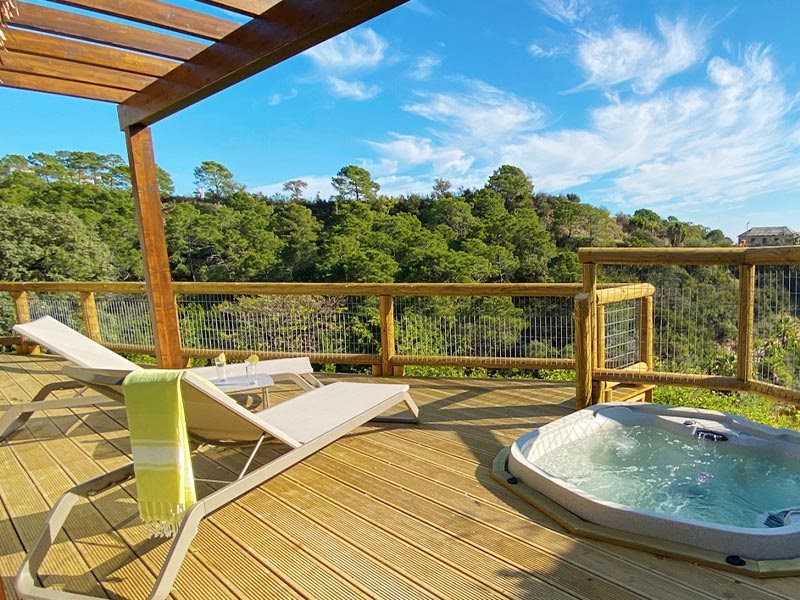 Whether or not you have ever visited Selwo, you'll certainly be looking forward to doing so. It's a unique place that we all want to visit at least once in our lives. Whether you're a couple, a family or a group, you'll find the perfect ticket and benefit from the many offers we have to offer. You no longer have to keep looking for things to do in Malaga. You'll also find different restaurants where you can book online if you wish. Selwo couldn't make it easier for you!

If you've already fallen in love with Selwo Aventura (even if you haven't visited it), just wait until you hear the last secret. Ready? You can celebrate your special day in this unique natural setting. Yes, you read that right. Selwo wants to help you enjoy those special days, so it offers you its incomparable scenery. Celebrate your child's communion, your birthday or that special day with friends or your partner at Selwo. We bet you're already thinking about the next special date to organize it in Selwo!


As you can see, Selwo offers endless activities and exclusive possibilities for you to enjoy a unique day out. All the family will have fun while sharing unforgettable moments. Don't think twice, come and visit one of Malaga's most special places. Selwo Aventura is the ideal place to visit in Malaga, we guarantee you won't be disappointed!
We've made it easy for you... haven't we? Maybe now you can't decide which activity to choose! Whichever you choose, it will be the right one. Enjoy the views from the Benalmádena Cable Car, immerse yourself in the underwater world of Selwo Marina or experience the wildest adventure in Selwo Aventura.